Who Made My Cabinets?
Have you ever needed to replace a cabinet, door, or part in your kitchen but don't know where to start? This can often be confusing so Kitchen and Bath Designer DeAnna Martin from our West Hatfield store has created this helpful guide to get you started!
Identify your cabinets' brand
The easiest way to match or find replacement parts for existing cabinetry is to first identify the brand. Cabinet manufacturers use different methods for branding their cabinets.
Check the sides of the drawer boxes
Some manufacturers will brand the inside, or outside of the drawer boxes with their logo as seen below.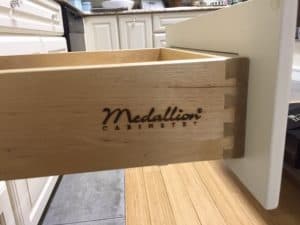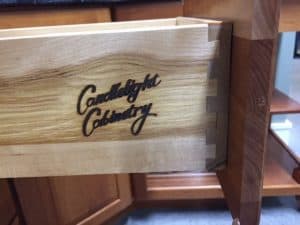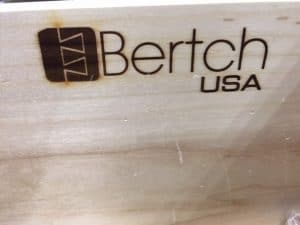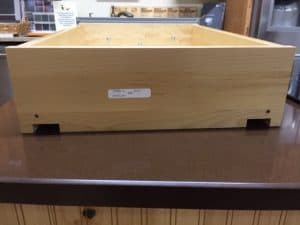 Check behind the drawer boxes for brand or additional information
If you don't find a logo on the side of your drawer, remove the drawer from the cabinet base and look on the back side for a label identifying the manufacturer and order information. Some companies may hand write this information instead of labeling it. Companies like Candlelight Cabinetry logo their drawer boxes and also provide a label on the back side to make the reordering process is as easy as possible.
Check underneath your wall cabinets or side panel in your sink base cabinet
Other manufactures will have a printed label on the bottom of the wall cabinets or on an inside panel in the sink base cabinet. In addition to telling you the brand, it will sometimes tell you the color, door style, and construction of the cabinet. Snap a picture of this label or make a note of the details as the cabinet dealer (like rk MILES) should be able to decipher the construction details of your cabinet.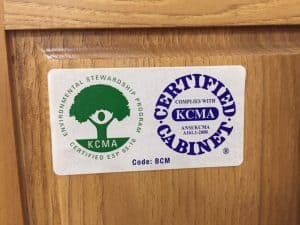 Check your sink base cabinet for a KCMA Label
Cabinet brands that belong to the Kitchen Cabinet Manufacturers Association (KCMA) will have a sticker on the back side of the sink door or side wall of the cabinet. On the sticker there should be a code or the cabinetry name in the middle of the label. For example, on a Bertch Kitchen+ door, the code is BCM. The KCMA website has a tool that you can then use to find a manufacturer.
Once you have identified the brand, you can check the cabinet manufacturer's website to find your local dealer. It is recommended that you bring a cabinet door with you when you meet with your local dealer to make sure replacements will match the finish and style of your existing cabinets.
Finally, if there is no indication of a manufacturer on your cabinets, there is a chance they were custom built by a local cabinet maker or builder. If this is the case, replacements can still be made and parts can be found. Be sure to contact us if you have questions!
*Kitchen & Bath showrooms and services are in our West Hatfield and Williamstown, MA stores only