RELIABLE. RESPONSIVE. INFORMED. CARING.
As a fourth-generation, family-owned company, we understand the importance of our role as an employer and as a partner in the communities where we do business. The experience we have gained over the generations has helped us hone our role and has helped us define our vision as a company to have supportive and enthusiastic employees and customers. To have our vision realized, our mission is to strive to be the most reliable, responsive, informed and caring supplier of building materials and related products and services.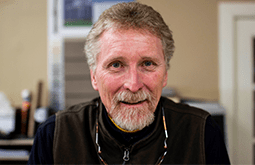 Bill Miller
Contractor Sales & Support
Bill Miller has been at rk MILES for more than 23 years and is part of our inside sales team at our Manchester location. His favorite part about the job is meeting new people – being able to work with all sorts of different people keeps the job interesting! He loves to take on new challenges that come along with his customers' projects. When Bill is not working you will find him kayaking, golfing, watching the Buffalo Bills or working in the yard!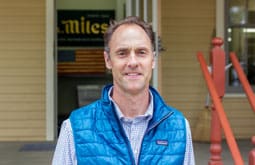 Josiah Miles
President
Joe grew up in the Building Materials business and he has benefited from the direction and advice of many past and present rk Miles employees. The family business turned out to be his best prospect for employment following graduation from UNH and for the past 30+ years, he has enjoyed the challenge of the business and its involvement in the communities it serves. Joe enjoys mountain biking, trail building and running.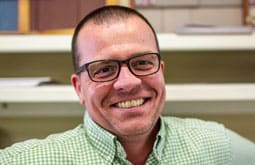 Jeremy Baker
Fleet & Safety Manager
Jeremy joined the rk MILES team 7 years ago! Some of his favorite things about being a Fleet & Safety Manager is the interaction with 250 employees at 10 unique locations throughout the company. Jeremy enjoys Introducing new equipment to the growing fleet and cultivating the evolving safety culture. When Jeremy is not working you will find him exploring the Green Mountain National Forest, hunting/fishing, spending time with family, and snowshoeing and skiing during the winter months!
Roots in the lumber business.
rk MILES is a fourth-generation family business, though the company's history begins five generations ago with Frederick Miles whose 1880s purchase of 800 acres of timberland on Red Mountain in Arlington, Vermont was the start of what was to become the rk MILES of today. His son, Richard K. Miles Sr. would return from being away 40 years later to the same forest land.
Richard Sr relocated his family to Arlington, Vermont where he first took up logging operations on the Red Mountain property and later purchased a water-powered sawmill operation on the Battenkill in that same town. In 1927 this milling operation moved from its riverside location to a brick-and-mortar retail establishment on Chittenden Drive in Arlington, and Miles Lumber Co. was established. The company sold lumber, hardware, fuel oil and coal to local residents and businesses and also operated a mill shop. In 1940, seeing an opportunity for a second location, Richard purchased a small lumber company in Manchester, Vermont incorporating it separately as r.k. Miles, Inc.
In the early 1950s, Richard K. Miles Jr, or Dick to all who knew him, took over the operation of rk MILES. He grew the business by supplying the local communities, including the adjacent ski areas Bromley, Stratton and Magic Mountain, with "everything to build anything." Dick was an astute businessman who understood the need for community involvement, good service and profit. He was known to state, in matter-of-fact terms, "no profit, no business."
After college, Dick's son, Josiah "Joe" Miles returned to Vermont and after the untimely death of his father, took over business operations in 1992. During the 1990s through the early 2000s, the housing business was robust in Southern Vermont and rk MILES' campus expanded to not only include more consumer goods but also a kitchen/bath design center, window showroom, and millwork department. rk MILES also expanded its footprint past Southern Vermont and between 2005 -2008 the company added locations in Middlebury, Vermont and Williamstown and Hatfield, Massachusetts. During the next decade, growth continued and in 2017, the company acquired locations in Morrisville and Stowe VT. In 2020, Joe's son Henry was involved in the expansion into four new Vermont locations in Barre, Montpelier, St. Johnsbury and Waitsfield with the purchase of Allen Lumber Company – a 132-year-old, 5th generation family business.
Now with 10 locations and the fourth generation stepping into a leadership role, rk MILES is poised to continue to build on the solid foundation of the past – a family business that values people and relationships, both with our customers and its employees.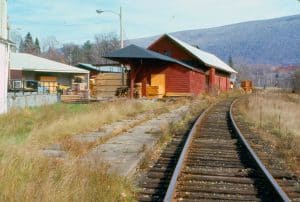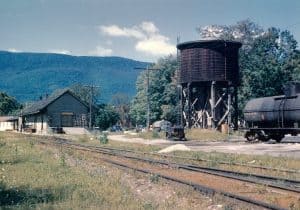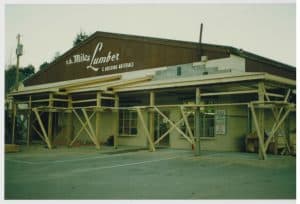 We are committed and care about the communities we do business in and this commitment is one of the core values of our company.
We understand how the way we do business affects the communities in which we work. We care and show support with donations to local organizations and nonprofit groups.
We also understand the impact our company has on the environment, so we recycle and research environmentally preferable products when purchasing for our facilities.