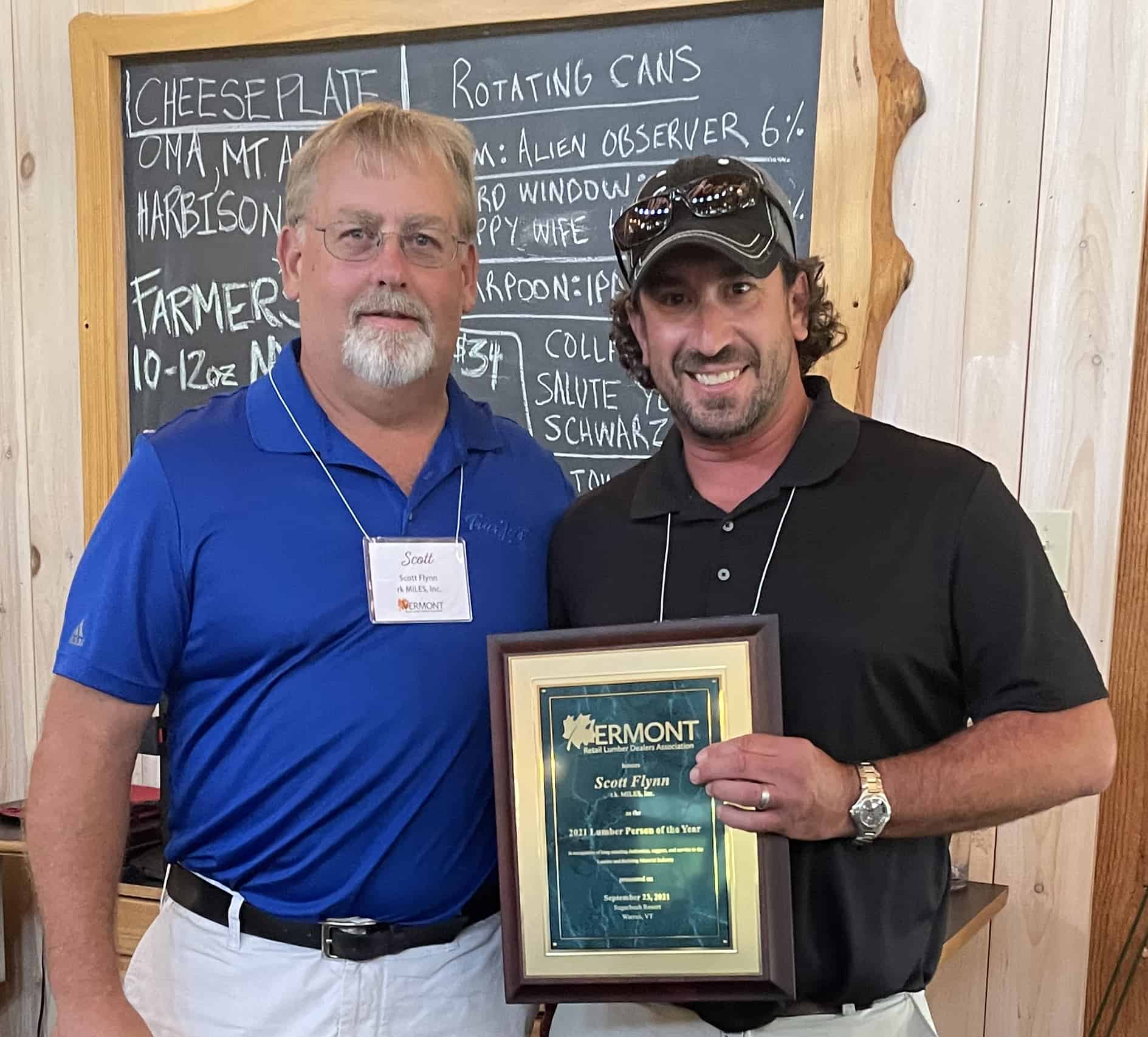 VRLDA NAMES rk MILES' SCOTT FLYNN AS LUMBER PERSON OF THE YEAR
rk MILES is pleased to announce that The Vermont Retail Lumber Dealers Association (VRLDA) has named Scott Flynn, General Manager of rk MILES' Middlebury location, as their 2021 Lumber Person of the Year. The VRLDA Lumber Person of the Year recognizes an individual who has made significant contributions to the lumber and building materials industry as well as to his or her local community. This year's award was presented to Scott by Brian Wright, Territory Manager for Trus Joist.
Scott began his career in the lumber industry in the mid-eighties when Poulin Lumber opened a store in his hometown of Derby, VT. "I started running forklifts and shucking lumber in the yard, then moved to driving, dispatching and finally I moved into inside sales," he says. With a short stint running his own custom wood products business, Scott returned to Poulin and rose the ranks as an outside salesperson, Assistant Manager, Manager, then ultimately as General Manager of that company's location in Hardwick, VT.
Scott joined the rk MILES team in 2016 as General Manager of its Middlebury location. Since then, he has helped support the company with its expansions in 2017 and again in 2020 and has been instrumental in implementing a dispatch and delivery system at most of the rk MILES locations in Vermont and Western Massachusetts.
He spent a decade on the VRLDA board of directors, including a term as President from 2015-17 and has also served on the Northeaster Retail Lumber Association's (NRLA) Board of Directors and Convention Committee.
"If you get a chance to participate or serve on a board in your industry, do so," he advises. "The networking will only empower you and bring you to new levels," he adds.
Scott is the fifth rk MILES employee to win this distinguished award.
Past rk MILES Lumberperson of the Year Award Recipients:
1992   Dick Miles
2012   Steve Churco
2016   Joe Miles
2019   Brenda Beanland