Where the pros go.
Our Morrisville location was acquired in 2017 and is key in making our products and services available to our North-Central Vermont and Northeast Kingdom customers. We offer state-of-the-art products and services including Lumber & Building Materials, Hardware & Tools, Doors & Windows and Paint. Scroll down to see our featured products and services.
Current Promotions
[ Updated 04/03/2020 ]
MAKITA SALE! Build Your Own 3 Piece LXT Kit
Don't miss our Build Your Own 3 Piece LXT Kit!
We have SO many great options for you to choose from to create your very own LXT Kit.
Of course…. with this purchase you receive the Makita 18V Lithium-Ion Battery and Rapid Optimum Charger Starter Pack (5.0AH) for FREE*
Offer ends 4/30/20. While supplies last. Promotional items vary by store location. Click below for more details!
MORE INFO
Don't Miss Our Makita Savings!!
We are having a HUGE Makita Sale… and there are so many great options!
Buy the Makita 18V LXT® Cordless 4,000 RPM Drywall Screwdriver Kit for $234.99 & get the Makita 18V LXT® Lithium‑Ion Cordless Cut‑Out Tool for FREE! March 1st – May 31st, 2020
Buy the Makita 10″ Dual‑Bevel Sliding Compound Miter Saw with Laser for $599.99 & get the Makita Compact Folding Miter Saw Stand for FREE! March 3rd – March 31st, 2020
Buy Makita 18V LXT® Lithium‑Ion Sub‑Compact Brushless Cordless 2‑Pc. Combo Kit for $229.99 & get the Makita 18V LXT® Lithium‑Ion 5.0Ah Battery FREE! March 3rd – April 30th, 2020
Please see flyer for specific promos, and promo dates!
MORE INFO
METABO SALE!
Buy a Metabo 8.5″ Miter Saw for $349.99 OR a Metabo 10″ Miter Saw for $569.99 and get the 18 Gauge Brad Nailer for FREE!
Offer ends 3/31/20. While supplies last.
See flyer for more details!
MORE INFO
Chris Lyons
Hardware Sales/Operations
Chris joined the rk MILES Morrisville team one year ago. He enjoys the daily interaction with customers and coworkers and looks forward to the ever-changing challenges of the job. Chris enjoys golfing, skiing, biking, hiking, and spending time with his wife Kelley and Royal, their Pembroke Corgi.
Mike Kuchta
General Manager
Mike joined the rk MILES team almost 2 years ago as General Manager of our Morrisville location. He brings with him many years of experience in the lumber and building materials industry and helps lead the team at one of our newest locations. As General Manager, he enjoys independent and flexible decision-making for the location but is grateful for the great team atmosphere at rk MILES. When he's not at the helm in Morrisville, you can find him hiking and kayaking.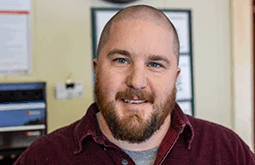 Kyle Bouchard
Outside Sales
Kyle has been in the industry for almost 20 years. As Outside Sales Rep, he continues to support the great relationships with local builders he built as General Manager of Morrisville Lumber Co. He looks forward to each day being an adventure - balancing the demands of the job while helping his customers be successful. When he's not on the phone or on-site with customers, he's out running, hiking and riding his Harley.