Have you ever needed to replace a cabinet, door, or part in your kitchen but don't know where to start? This can often be confusing so Kitchen and Bath Designer DeAnna Martin from our West Hatfield store has created this helpful guide to get you started!
Identify your cabinets' brand
The easiest way to match or find replacement parts for existing cabinetry is to first identify the brand. Cabinet manufacturers use different methods for branding their cabinets.
Check the sides of the drawer boxes
Some manufacturers will brand the inside, or outside of the drawer boxes with their logo as seen below.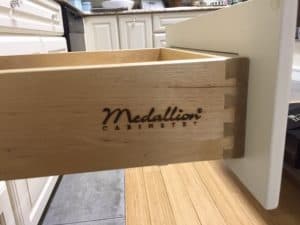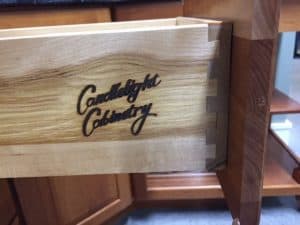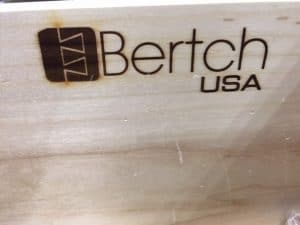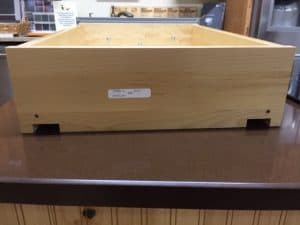 Check behind the drawer boxes for brand or additional information
If you don't find a logo on the side of your drawer, remove the drawer from the cabinet base and look on the back side for a label identifying the manufacturer and order information. Some companies may hand write this information instead of labeling it. Companies like Candlelight Cabinetry logo their drawer boxes and also provide a label on the back side to make the reordering process is as easy as possible.
Check underneath your wall cabinets or side panel in your sink base cabinet
Other manufactures will have a printed label on the bottom of the wall cabinets or on an inside panel in the sink base cabinet. In addition to telling you the brand, it will sometimes tell you the color, door style, and construction of the cabinet. Snap a picture of this label or make a note of the details as the cabinet dealer (like rk MILES) should be able to decipher the construction details of your cabinet.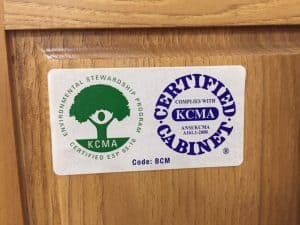 Check your sink base cabinet for a KCMA Label
Cabinet brands that belong to the Kitchen Cabinet Manufacturers Association (KCMA) will have a sticker on the back side of the sink door or side wall of the cabinet. On the sticker there should be a code or the cabinetry name in the middle of the label. For example, on a Bertch Kitchen+ door, the code is BCM. The KCMA website has a tool that you can then use to find a manufacturer.
Once you have identified the brand, you can check the cabinet manufacturer's website to find your local dealer. It is recommended that you bring a cabinet door with you when you meet with your local dealer to make sure replacements will match the finish and style of your existing cabinets.
Finally, if there is no indication of a manufacturer on your cabinets, there is a chance they were custom built by a local cabinet maker or builder. If this is the case, replacements can still be made and parts can be found. Be sure to contact us if you have questions!
*Kitchen & Bath showrooms and services are in our West Hatfield and Williamstown, MA stores only

rk MILES is excited to announce changes to one of its trusted company partners – Marvin Windows and Doors. Known for a spirit of innovation and commitment to people, Marvin Windows and Doors is evolving to design and build better ways of living. New changes that reflect this evolution include combining the brand with Integrity Windows and Doors to be known simply as Marvin moving forward. Additionally, Marvin has reorganized its product portfolio and developed several internal initiatives to support continued product introductions that are truly customer-centric.
Reintroducing Marvin
The Marvin brand now represents all fenestration products previously known as Marvin Windows and Doors and Integrity Windows and Doors, with both of those brand logos now retired.
Refreshed product collections
Three product collections now organize Marvin's window and door products to help customers find the right solutions for their projects, making it easy to create beautiful homes that deliver on every customer's unique needs.
Signature Collection: Design and category-leading innovation
As Marvin's most aspirational product line, the Signature Collection features the broadest range of product types, styles, configurations and design options. Ideal for creating exceptional spaces in which every detail is thoughtfully considered, the collection includes the products previously known as Marvin Contemporary Studio and also includes what will continue to be known as the Marvin Ultimate and Marvin Modern lines.
Elevate Collection: Beautiful design, superior strength
A resourceful option, the Elevate Collection offers a balance of creativity, vision and reality, hitting a sweet spot between differentiated, highly valued features and price. The curated collection includes products previously known as Integrity Wood-Ultrex.
Essential Collection: Streamlined, versatile and maintenance-free
For those who wish to reduce complexity without sacrificing quality, the Essential Collection offers accessible design with a simplified approach. Featuring clean lines and simple profiles, the Essential Collection offers versatile style solutions with superior strength and durability. The collection includes products previously known as Integrity All Ultrex.
As a proud dealer of Marvin for more than 30 years, rk MILES is looking forward to incorporating these new changes from the company over the next few month. For more information about the new Marvin brand, visit www.marvin.com.

Welcome to the NEW rkmiles.com. We have redesigned our website to be more user-friendly. Whether you are a General Contractor, do Commercial Construction, or you are a Homeowner, you can find what you need right at your fingertips!
Here are changes that we think you will find more helpful:
• Clear Navigation Menu right at the top!
• Easy access dropdown menu to our Products & Services- with location filters to find what is available at each location!
• Easy access dropdown menu to each location for a quick view of featured products and service by location!
• Easy access to current Promotions, In-store Events, and Classes (filtered by location)!
• Quick access to our Contact information filtered by location!
• Easy iNet Account Access!
Plus: You will see useful resource links, downloadable documents, and tools throughout the site. Have questions? Want to Request a Quote? You can do that too!
Check back here often for blog posts, news and helpful links!
Check out the site and happy surfing!
-rk Team