r.k. MILES, INC. AWARDED UVM GROSSMAN SCHOOL OF BUSINESS 2020 MULTI-GEN FAMILY BUSINESS AWARD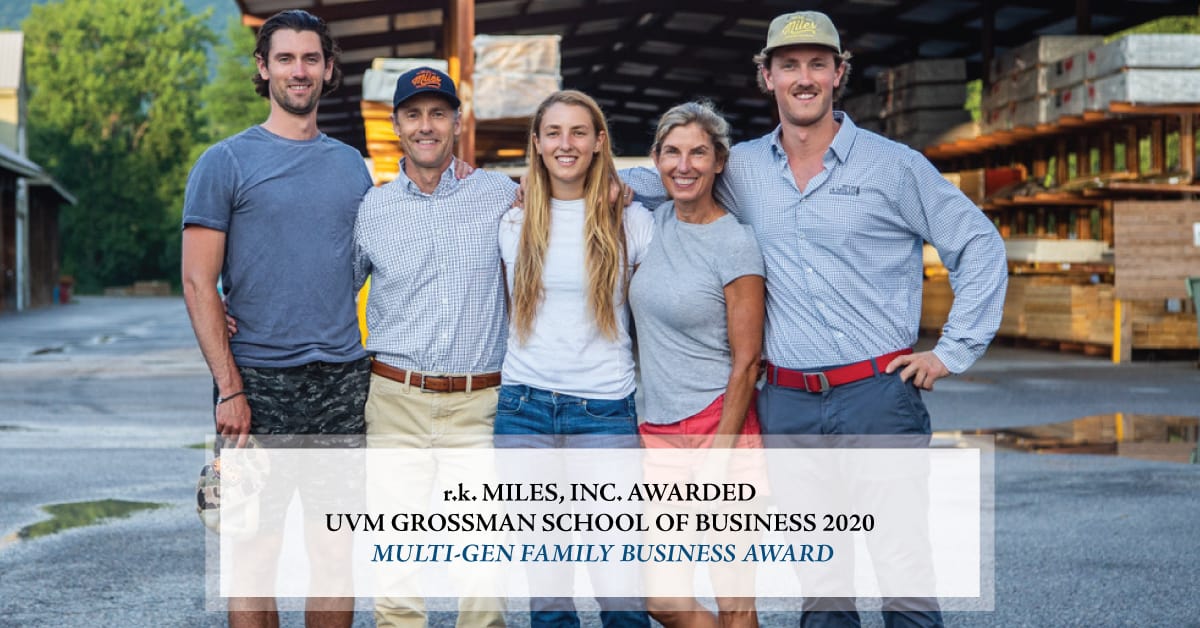 Left to right, Francis, Joe, Sophie, Christine and Henry.
MANCHESTER CENTER, VT – r.k. Miles, Inc., a third-generation, family-owned business with locations in Vermont and Massachusetts, was awarded the 2020 UVM Grossman School of Business Multi-Generation Family Business Award on Friday, October 2nd during a virtual ceremony.
The University of Vermont's Grossman School of Business recognizes and celebrates first and later generational family-owned businesses that have demonstrated a commitment to creating sustainable business through leadership and innovation.
Panelist Judge Evan Langfeldt, CEO of South Burlington-based O'Brien Brothers and last year's recipient of the UVM Vermont Legacy Family Enterprise Awards, presented rk MILES with this year's award on behalf of his fellow judges.
"2020 marks the 80th Anniversary of this iconic Vermont company representing a wonderful story of how each generation has contributed to its growing legacy of success," Langfeldt explained.
"Our judging panel found [rk MILES] impressive on a variety of fronts – thoughtful governance, financial growth and success, depth of community contributions and proactive development of the next generation of leaders to name a few," Langfeldt said. "While all of the nominated business had impressive track records and compelling stories, rk MILES stood out to me personally, not just for their sustained success over generations in a difficult industry, but because they have been an integral project partner and material supplier to our company, O'Brien Brothers, on our ongoing project Hillside at O'Brien Farm.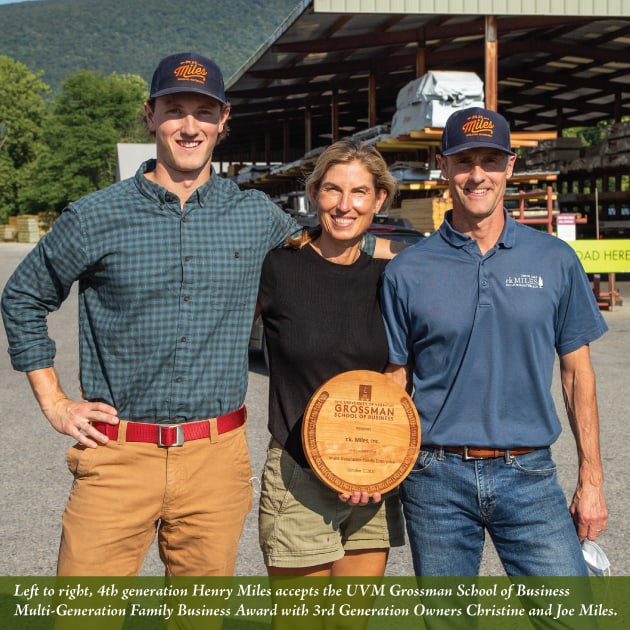 I know firsthand, the quality of customer service, materials and goods they provide, and the caliber of the people they employ. They are responsive, proactive and their employees seem to genuinely enjoy working for the company and take pride in it. That means something and it translates to the quality of service they provide," he added.
rk Miles joins the ranks of just 33 other businesses to be presented with such a distinguished award over the past nine years by the School.
"We are incredibly honored to have been nominated and chosen as this year's recipient of UVM's Grossman School of Business Multi-Generation Family Business Award," said Joe Miles, President and third-generation owner of rk MILES. "This recognition is due in no small part, to the team behind the name. As generations before me set the foundation for our business, we understand that success doesn't always come from grand strategies, but rather from the small individual contributions by our staff that happen day in and day out – acknowledging our customers by name and going the extra mile to make sure they get what they came for – that's what sets us apart and makes rk MILES what it is today," he added.
……
About rk MILES 
Celebrating its 80th year, r.k. Miles, Inc. is a third-generation family business founded in Manchester, VT. The company supplies lumber, building materials and home goods to communities in Vermont and Western Massachusetts. Fair business practices, customer loyalty and community involvement have been the cornerstone of the company's success. With the acquisition of Allen Lumber in November of 2020. r.k. Miles, Inc. will have a total of 10 locations.