Employee Product Spotlight: Big Green Egg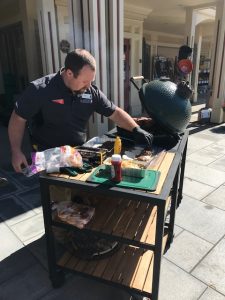 I have always enjoyed grilling but cooking with the Big Green Egg (BGE) has upped my level of enthusiasm for cooking outdoors!
I am constantly searching for recipes that I think would be great in it. There is so much versatility with the BGE that is has been difficult for me to come up with just one favorite dish.
The Science: The heat and moisture retaining properties of the BGE ceramic construction ensures an efficient burn at steady temperatures – all while keeping your food nice and juicy. Better yet, temperatures remain so steady that you can use it in any weather, at any time of year. Not only can you grill on it, you can bake, roast and smoke on it as well.
Big Green Egg also has a variety of EGGcessories like the tiered cooking rack to expand your grilling surface, racks for holding different cuts of meat, basting brushes and spices – all of which make your cooking experience so much easier!
When it comes to the BGE inspired spices, I can't say that I have a favorite because I use them all in different occasions, but I do have some favorite parings such as: Ancho Chile & Coffee with all cuts of steak, Sweet and Smokey on chicken, Savory Pecan on pork and Citrus Dill on fish.  Big Green Egg's website also is up to date with some great recipes that are easy to search for and provide a wide range of tastes!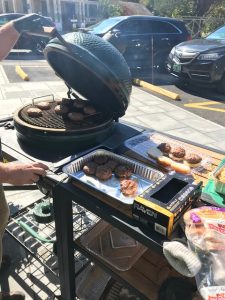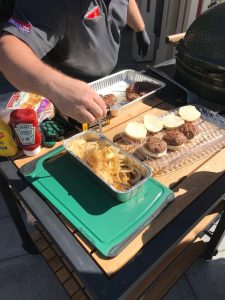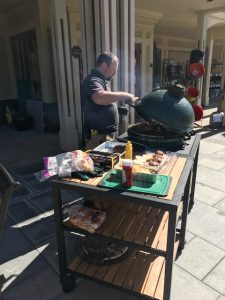 Words and photos by Brian Carroll – Manchester Hardware and Home Floor Supervisor (and Big Green Egg Cook-extraordinaire).
*Catch Brian grilling in Manchester on the occasional Saturday and sample some of his delicious BGE creations!